Return to Headlines
A Message to the Henry County Schools Community Regarding School Safety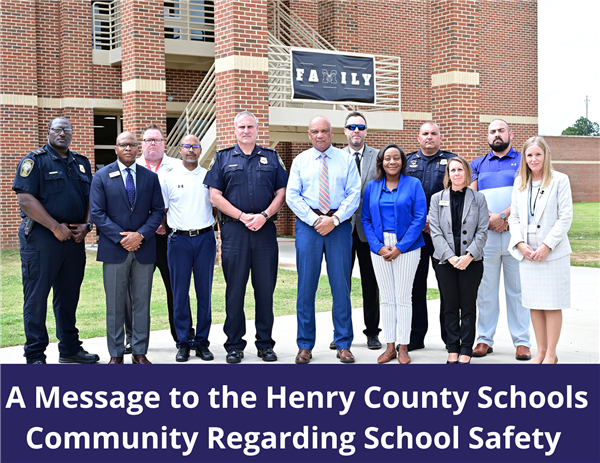 Today, Superintendent Mary Elizabeth Davis, along with several district leaders, law enforcement partners, and county government officials joined together to address the safety/security violation which took place at McDonough High School on Wednesday, August 10. Their intention - to send a clear and unified message that we are serious about school safety and to provide clarity into the details of the incident now that the law enforcement investigation and the internal review have concluded.
Every single day, district leaders, school officials, law enforcement partners, and county government leaders hold the safety our district's nearly 44,000 students and 6,000 employees with the greatest regard. School cannot happen without a safe and secure learning environment. In order to make this a reality, we all have to all do our part in this community as we invest in young people, share clear expectations of what will be tolerated, and by reporting anything that may threaten the security of a school. An easy way to speak up is by using our anonymous tip line – 770-220-7009.
Please take a moment to view the message, including comments from Superintendent Davis, SRO Commander Capt. Charles Huffman, with support from district and county leaders. Together, we are committed to sensible solutions and strategies that ensure everyone's safety at the highest levels, and we pledge to always put forth a sound, approved set of procedures and protocols to provide reassurance to everyone who places their trust in us each day.
The protection of everyone involved in a major incident always comes first, followed closely with accurate details to support understanding and ensure the facts are undisputed. This remains our commitment to you and your family.
Thank you for your support and partnership to make our schools the safest places for our entire community.
Reflection on Timeline of Events –
10:27 am – Teacher reports hearing loud noise in gym, notifies school administration; hard-lockdown activated at MHS; soft-lockdown activated at MMS
10:29 am – McDonough High School SRO identifies student leaving school premises
10:38 am – Student in question apprehended by law enforcement across the street in nearby apartment complex
10:50 am – Hard-lockdown reduced to soft-lockdown after thorough assessment of campus safety status updated; investigation of gym area continues
12:05 pm – Soft-lockdown status for both MHS and MMS lifted after all-clear given by law enforcement