Return to Headlines
Board of Education, Commissioners Partner on New SRO Program
Submission Date: July 20, 2022
Release Date: For Immediate Release
Contact: J.D. Hardin, 770-957-6601 ext. 01161, john.hardin@henry.k12.ga.us
(Release # 0003-07-2022)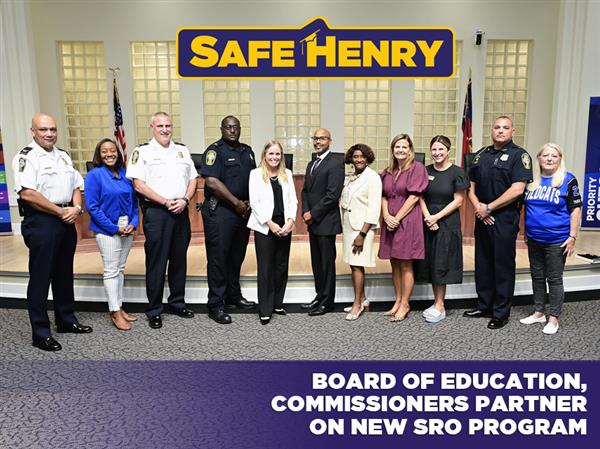 Board of Education, Commissioners Partner on New SRO Program
Henry County PD steps in to operate School Resource Officer Program, provide safety
HENRY COUNTY, GA – Several new and familiar faces will be seen in Henry County Schools thanks to the Henry County Board of Education unanimously approving a Memorandum of Understanding (MOU) that establishes a new collaboration with the Henry County Government and Henry County Police Department (HCPD) to operate the School Resource Officer (SRO) program for the coming school year.
The Henry County Board of Education emergency meeting on Thursday, July 21, saw them move quickly to establish this safety partnership after the Board of Commissioners took formal action during their July 19 board meeting to adopt a resolution that provides a new MOU between the county and the board of education to staff the SRO program through the police department.
This all comes after the board of education received notice of intent to terminate a 2016 Memorandum of Understanding between the schools and the Henry County Sheriff's Office back in June. The Henry County Sheriff's Office advised in a letter that they could no longer operate the SRO program, noting their constitutional obligations to their main charge as a law enforcement agency.
The need to ensure a smooth and seamless transition to a law enforcement agency prepared to meet the needs of the growing district led to deep discussions between Henry County government and school district leaders. Officials agreed that the best option would be a partnership with the Henry County Police Department and that preparation would begin right away to ensure School Resource Officers would be in place, fully trained, by the first day of school on August 3.
"I cannot overstress the importance of and key component our School Resource Officers are in the overall safety of our schools and our community," said Superintendent Mary Elizabeth Davis. "We have always valued the relationship with the sheriff's office to provide our schools with resource officers, and we are appreciative of them for working with us to find solutions to our need to increase officer numbers across our district. In the end, a viable solution could not be found, and we accepted their notice of termination of the 2016 Memorandum of Understanding. Safety is paramount in schools, and our board members are very much committed to investing in expanding the number of school resource officers."
Board members, county government officials, elected officials, and law enforcement leadership also emphasized the importance of this new partnership to ensure safety for the school community.
"I am humbled at how amazing our community is," said Board Chair Holly Cobb. "As grateful as I am for the longstanding relationship we have had with the sheriff's department, so grateful for that, I could not be more excited for this new partnership. It is so evident, the genuine care and concern for our school system and students."
Commission Chair Carlotta Harrell shared in the same excitement as her school board counterpart.
"We are looking forward to partnering with our Board of Education and school leaders on such an important initiative," said Commission Chair Carlotta Harrell. "I, along with my fellow commissioners, know that our students deserve a safe learning environment with personnel able to respond proportionally to the needs of our growing student population, and this new agreement paves the way for that to happen."
The Henry County Police Department has provided officers in the past, in a limited capacity, to ensure safety. The HCPD was once the provider of all school resource officers for the district before that responsibility shifted to the sheriff's office. Returning responsibility to the police department is something that County Manager Cheri Matthews knows her officers are more than capable of performing at the highest levels.
"Chief Amerman and his leadership team will provide the highest level of service to our school community as they do on a routine basis for all citizens throughout the county," said Matthews. "The officers who will protect our schools will be well equipped to meet the demands of our schools by completing all state and local training requirements."
Students, staff, and families can still expect the same high standards and levels of support from the police department as was experienced over many years with the sheriff's office. In fact, school and county leaders hope this new partnership enhances the sense of safety and security even further.
"There's nothing more important than the safety of our most precious commodity – our children," said Board Vice-Chair Annette Edwards (Dist. 5). "I am delighted to see you (officers) here, because we cannot open our schools without them being safe."
District 4 Commissioner Vivian Thomas also shared strong support for this latest venture to support students and staff.
"Protecting our students, teachers, and staff is one of my top priorities," said Thomas. "Everyone should be able to attend school and function without fear of any harm. Supporting the safety of our children is paramount, and this initiative will give our community a continued sense of assurance that our schools are safe and secure."
Police department officials are excited to assume this new role and eager to instill the same confidence in the school community when it comes to being a source of prevention, appropriately intervening when required, establishing meaningful relationships with students, and being ready to respond to emergency situations.
"We have always had a great relationship working with the schools, and we will make sure the professionals assuming these school resource officer roles will be of the highest caliber and held to the highest standards," said Chief Mark Amerman. "And the Henry County community can trust that we will do everything we can to ensure everyone's safety day in and day out."
For more information on Henry County Schools, visit www.henry.k12.ga.us. For more information on the Henry County Police Department, please visit www.henrycounty-ga.org.
###