Return to Headlines
HCS Moves to Level 2 on Continuum of COVID-19 Mitigation Strategies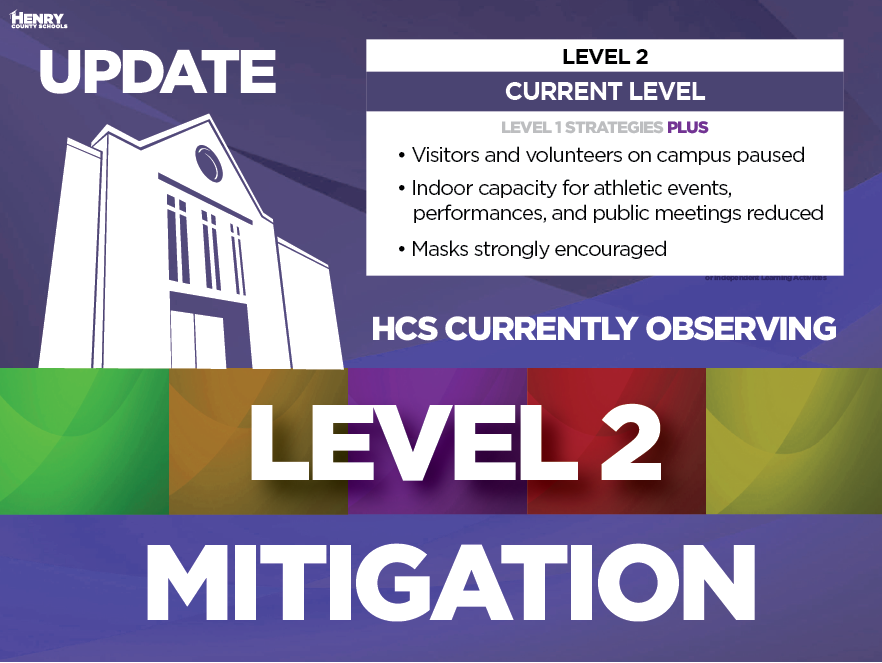 Henry County Schools Families,
As we come to the end of Kindness Week and are now just one week away from the Thanksgiving holiday break, I am grateful to be able to share with you more encouraging updates regarding our district's efforts to keep the school community safe during the pandemic.
As a result of the continued improvement in COVID-19 case numbers in our district and county, Henry County Schools will move from Level 3 to Level 2 of mitigation phases on our continuum effective immediately. You can view all of our health metrics for both the school district and county by visiting our website and using the link on the left side of the page. As a county, we are now at 83 new cases per 100,000 people which represents one of the lowest numbers over a 21-month stretch.
Level 2 means that we will continue to keep in place all prominent signage, increased cleaning schedules, sanitizing of high-touch surfaces, regular air-filtration maintenance, and hand sanitizer stations. We will also continue our strong encouragement of wearing a mask. But now we will be able to once again allow indoor use of our school facilities by the community, in-person meetings for large groups of employees, and reduce any capacity restrictions for our indoor and outdoor events.
Vaccines continue to be the best layer of protection and prevention against COVID-19. With the widespread availability of a COVID-19 vaccine for all children ages 5 and older, we are now able to modify our positive COVID-19 case protocol. We will continue to communicate every positive case in schools but will adjust our response to cases by advising self-monitoring of symptoms by families and employees as the necessary action to help prevent any further spread of the virus. With medical advancements making the vaccine widely accessible to children 5+ and all adults, Henry County Schools will limit close contact investigations to children under the age of 5.
Our COVID-19 Mitigation Strategy was constructed to help keep schools open and keep students and staff safe, and it continues to work as designed. As promised, we have been able to respond directly to identified impacts without a blanket response to ensure minimal disruptions to the learning environment.
We continue to share our thanks with the community for your support of our efforts to provide a safe and healthy learning environment for our students and staff. We are also grateful to the large number – over 90 percent – of our employees who have received the important level of protection against COVID-19 through a vaccine. This means that we have a strong and healthy workforce ready to ensure the highest level of quality education for our young people.
Have a great weekend!
Sincerely,
Mary Elizabeth Davis
Superintendent​