Return to Headlines
Jennifer Brown Named Henry County Schools Teacher of the Year
Submission Date: October 27, 2021
Release Date: For Immediate Release
Contact: J.D. Hardin, 770-957-6601 ext. 01161, john.hardin@henry.k12.ga.us
(Release # 0020-10-2021)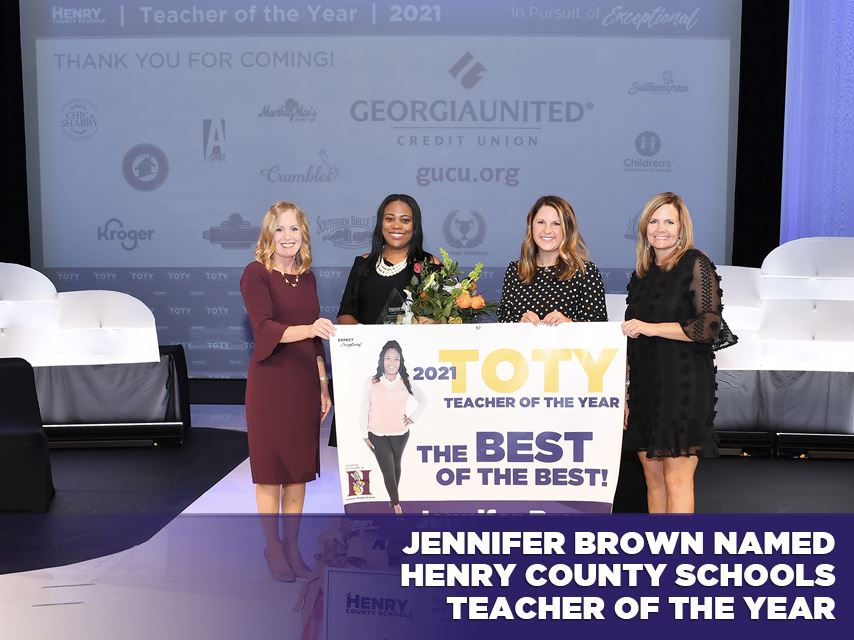 Jennifer Brown Named Henry County Schools Teacher of the Year
Hampton Middle School teacher earns top honor during district ceremony
HENRY COUNTY, GA – Hampton Middle School 6th-grade English-Language Arts teacher Jennifer Brown was announced as the 2021 Henry County Schools Teacher of the Year during the district's grand ceremony on Thursday, October 21.
The annual event presented by Georgia United Credit Union was full of celebration for all 52 of the district's schools' Teachers of the Year, and Brown was honored as the top teacher after being named one of three finalists along with fellow teachers Quinyonia Kearse from Luella High School and Vicki Gonzalez from Woodland Elementary.
The announcement initially had Brown at a loss for words, but she was able to share how impactful the moment for her was and how she looks forward to representing all teachers in Henry County Schools.
"This is an absolute honor and blessing that I do not take for granted," said Brown. "There are some phenomenal educators in Henry County and to be chosen to represent the district is a humbling experience.
Principal James Thornton was just as excited to hear Brown's name called during the event as the district's top teacher, but he is not surprised due to her impact at Hampton Middle School.
"She embodies what teaching is all about," shared Thornton. "She is able to communicate with grace, listen with empathy, focus on collaboration, adapt to change with ease, and engage students in innovative ways. But above all, she is deeply deserving of this honor because she simply changes student trajectory one moment, one opportunity, and one day at a time."
Brown notes that her late mother, Wavie Torrence, is the person most responsible for inspiring her to become a teacher. It was the example her mother set for her that let her know she could do anything she wanted to, and a teacher was what she has wanted to become since she was in kindergarten.
"Teaching was in me," added Brown, "and I think that that was a gift from above.
"However, my work ethic and dedication to accomplish my dreams and knowing that I could be a career woman, a mommy, and a wife just like her fueled my fire to be as successful as I am in my purpose of teaching. She always believed that I could, so I did."
Brown was originally named a semifinalist for the district's top honor back in July along with Kearse and Gonzalez. There were three other semifinalists named at that time, including Alexis Stovall (Hampton Elementary), Kesha Fuller (Dutchtown Middle School), and Eileen Boggs (Union Grove High School). The teacher of the year ceremony included features of all six teachers before announcements were made narrowing the six down to three before Brown was crowned the winner to conclude the evening's celebration.
"The Teacher of the Year ceremony is our premier event in Henry County Schools to be able to recognize the extraordinary efforts of our dedicated educators and thank them for all they do to ensure learning at the highest levels for our students," said Superintendent Mary Elizabeth Davis. "All 52 teachers this year made the selection process extremely difficult for our review committee, but in the end, Ms. Brown stood out as the top teacher in our district."
Brown received a variety of prizes from community sponsors for the event, and a grand prize of $2,000 from the school district.
According to Steve Overcash, Area Business Development Officer for Georgia United Credit Union, supporting Henry County Schools' teachers is an important mission for his organization.
"Teachers do so much to give to the youth of our communities," said Overcash, "not only by providing an outstanding education but also by being a trusted adult to guide them through these important years in life. They ensure our future is bright for generations to come, and Georgia United is so glad to be able to recognize their substantial contributions through our sponsorship of this meaningful event."
For more information on Henry County Schools, visit www.henry.k12.ga.us.
###