Return to Headlines
Henry County Board of Education to Host Millage Rate Hearings
TO ATTEND THE HEARING IN PERSON, REGISTER AT: https://bit.ly/7192021430pmRegistration
Submission Date: July 8, 2021
Release Date: For Immediate Release
Contact: J.D. Hardin, 770-957-6601 ext. 01161, john.hardin@henry.k12.ga.us
(Release # 0001-07-2021)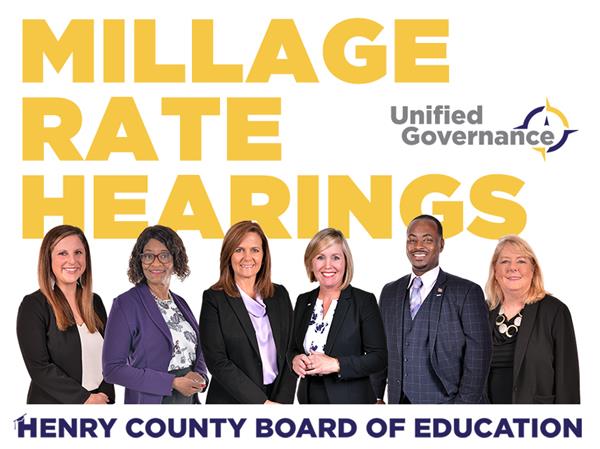 Henry County Board of Education to Host Millage Rate Hearings
HENRY COUNTY, GA – The Henry County Board of Education will host three meetings in the upcoming weeks regarding the adoption of the millage rate for the 2021-2022 school year. There is no proposed increase as the millage rate is already at its current limit of 20 mills. This rate has been in effect since 2007.
Using the same millage rate as the previous 14 years would result in more property tax revenue due to the recent increase in property values. There is a requirement for public hearings any time more property tax revenue is collected over the previous year.
Citizens can participate in the public hearings regarding the millage rate by attending in person, or the meetings can be viewed through the district's livestreaming services on the HCS website. The meetings will cover information regarding the millage rate adoption and its effect on property taxes. The meeting dates and times are as follows:
Monday, July 19, 2021, at 4:30 p.m. - https://bit.ly/7192021430pmRegistration
Monday, July 26, 2021, at 10 a.m. - https://bit.ly/726202110amRegistration
Monday, July 26, 2021, at 6 p.m. - https://bit.ly/72620216pmRegistration
The final adoption of the millage rate is set for Monday, July 26, 2021, at 6:15 p.m.
For more information on Henry County Schools, visit www.henry.k12.ga.us.
###
Notice of Property Tax Increase