Return to Headlines
June BOE Monthly Meetings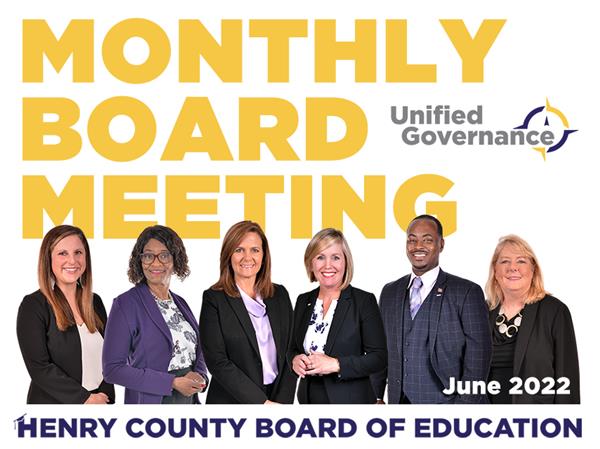 We have our June BOE Meetings on Monday, June 13, at 4 pm and 7 pm, respectively.
You can find the agendas here:
And like the past couple of months, we will have limited seating available for those wishing to attend in person. To attend in person, you must read and agree to abide by the Terms of Attendance listed below. Registration is through the following links:
Masks are strongly encouraged for use on all Henry County School property.

There will be limited capacity permitted in the auditorium for the meeting as appropriate mitigation strategies will be in place to promote social distancing. To assist in the effort, we have available seating for appropriate social distancing.

Conduct of guests that impedes the Board of Education from conducting the business of the Board is prohibited. Disruptive behavior may result in the guest's removal from the property. Posters or large signs containing vulgar or incendiary messages are not allowed and the use of any sign or material cannot impede or disrupt another citizen's ability to see or observe the business of the board. All guests are expected to act civilly to others.

If a guest's conduct prohibits the business of the Board, the guest will be asked to stop the disruptive behavior by the parliamentarian or district staff. Any continuation of disruptive behavior may result in the guest being asked to leave or being removed from the meeting; the meeting may be suspended and moved to a virtual format; or, the meeting may be rescheduled for a later time.
**Masks are strongly encouraged.
**Persons in quarantine or exhibiting signs of COVID-19 are not permitted to attend in-person meetings of the Board of Education.
**Registration for one meeting does not grant access to the other meetings nor does it ensure the ability to address the board.