Return to Headlines
HCS to Start 2nd Semester on Level 4 of COVID-19 Management Plan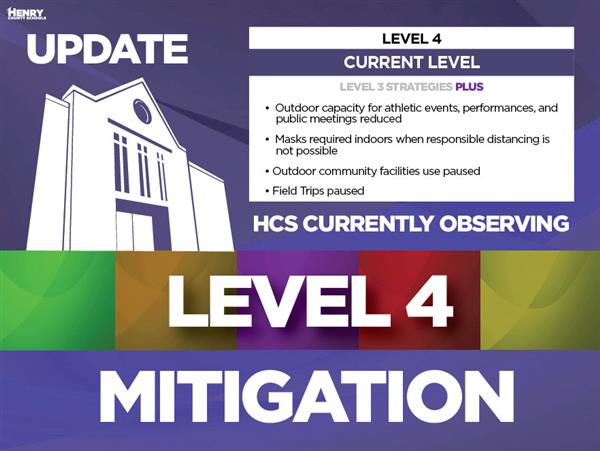 Henry County Schools is still on track for a return to on-campus, in-person learning on Monday, January 10. The one important update to our return is that we will shift to Level 4 on our COVID-19 Management Plan & Continuum of Multi-Layered Mitigation Strategies, effective immediately, due to the recent significant acceleration of COVID-19 cases within Henry County, as well as across the state and country. (Click here to review Level 4.) We have successfully adjusted mitigation strategies as COVID-19 conditions have shifted over the course of this school year through the use of data and in consultation with trusted health officials, hospital executives, and emergency management officials, who have advised returning to this level at this time to navigate the latest surge of the pandemic.
As a reminder, at Level 4 (in addition to all requirements from levels 1-3):
Masks are required for all indoor spaces, including buses;

Reduced capacity for indoor extracurricular events and public meetings;

Field trips are temporarily suspended; and

Campuses closed to on-campus visitors except by appointment or pre-scheduled activities.
Additionally, our COVID-19 Management Plan allows us to target specific areas (classes, hallways, grades, or a specific school) as needed to transition to remote operations, if necessary.
We also want to stress the importance of self-monitoring of your and your family's health. It is essential to keep kids home if they are not feeling well. Families should let their school know if their child is out due to illness and/or a confirmed positive COVID-19 case. For a list of COVID-19 symptoms, please visit the Centers for Disease Control and Prevention's COVID-19 Symptoms website by clicking here.
An encouraging point for allowing on-campus learning is that, fortunately, most of our employees have received the COVID-19 vaccine, which we know to be the most effective mitigation strategy in the fight against this pandemic. If you haven't gotten a vaccination or your booster, we strongly encourage you to speak with a health or pharmacy official about this important option to protect you, your family, and the community.
The safety of 43,000 students, 6,000 employees, and their families is of the greatest priority for our school district, and we are doing everything we can on a daily basis to help mitigate the spread of the virus while responsibly maintaining an on-campus learning experience for students. We will continue to monitor and adjust our mitigation strategies as necessary and provide timely updates. Thank you for your patience and understanding as we work to ensure the health and safety of our school community.